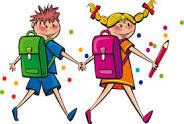 Welcome to Ms. Toor's Grade 3 Class!  We have 19 delightful students in our class who are all eager to learn, explore, and grow.  
---
Our weekly schedule:
Monday:  Gym/book exchange
Tuesday:  Library/book exchange
Wednesday: Gym
Thursday: Library/book exchange
Friday: Book exchange 
School supply kits have been ordered.  The cost is $40 plus $6 for planners for a total of $46.  
IMPORTANT DATES:
Friday, November 5th:  Early dismissal 11:10am
Thursday, November 11th:  Remembrance Day/Schools closed
Thursday, November 18th:  Photo retakes
Friday, November 12th: Schools closed
Tuesday, November 16th:   Field trip to The Blue Heron Reserve (9:00am-11:30am)
Friday, November 19th:  Break the Rules Day
Friday, November 26th:  Schools closed 
Contact information for Ms. Toor:  alison_toor@sd33.bc.ca