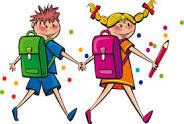 Welcome to Ms. Toor's Grade 3 Class!  We have 18 delightful students in our class who are all eager to learn, explore, and grow.  
---
Our weekly schedule:
Monday:  Teach new spelling concepts/Library
Tuesday:  Library/Gym
Wednesday: Afternoon book exchange
Thursday::  
Friday: Gym, afternoon book exchange, Spelling test (Test will be on Thursdays if there is a holiday/Pro D on Friday)
IMPORTANT DATES:
June 21:  Ringette
June 23:  Walking field trip to the Shell for a treat
June 24:  Last day for students (11:10 early dismissal)
CONGRATULATIONS:  YOU MADE IT!!!
Contact information for Ms. Toor:  alison_toor@sd33.bc.ca